HIKING AND BIKING FOR EVERYONE.
Hotel Königshof in Bad Füssing is the ideal hotel for your active vacation – the perfect starting point for extended bike tours on wonderfully signposted bike trails, hikes, or for example Nordic walking.
Did you know that there are around 430 km of signposted biking and hiking trails right in Bad Füssing?
But that's not all. Thanks to the diversity of our location and surroundings, it is possible to find a difficulty level that suits every ability. You can thus enjoy the magnificent scenery without having to put your peak athletic performance to the test. Take a look at our offers for your vacation in Bad Füssing.
Hiking
Fresh air and movement. The optimal combination. Enjoy the magnificent nature of Lower Bavaria on a hike around Hotel Königshof in Bad Füssing. You can also enjoy hikes on flat terrain, in the Innauen, or easy to difficult mountain tours.
Our hotel is the ideal starting point for your hiking plans. Discover the forests and meadows around the Bäderdreieck ("Spa Triangle") region or explore the nearby "Unterer Inn" bird sanctuary and the Aigener Forst & Thalauer Wald nature reserves on foot.
Cycling
Are you planning a simple cycling tour through Lower Bavaria's lowlands, or would you like to tackle a challenging tour through the mountains?
The best way to experience the beauty of the natural and cultivated landscape around Bad Füssing is on 2 wheels. 430 km of biking and hiking paths lead along the idyllic Innauen and through charming towns. Take this opportunity to stop by the Austrian Innviertel region. Excursion destinations such as the Baroque town of Schärding, the ostrich farm in the Thalauer Wald, and the Reichersberg monastery can also be conveniently explored on bike.
Of course, we also offer rental bikes (€4/day) in Hotel Königshof.
You are welcome to bring along your own bike and park it in the underground garage.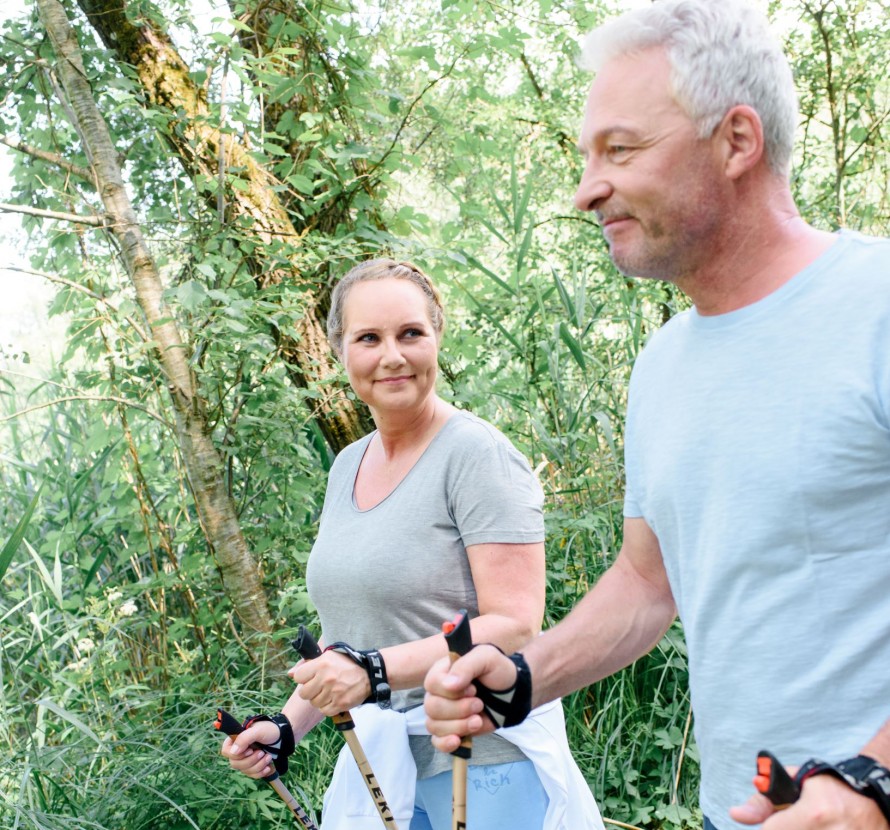 Nordic Walking
Whether alone or together with our trainers, Nordic walking around Bad Füssing is absolutely magnificent. Did you know that there are even separate routes for all walking enthusiasts here?
Awaiting you are 22 Nordic walking routes with a total length of 170 km between Bad Füssing, Kirchham, and Pocking. There is a perfect Nordic walking tour to suit every fitness level. This sport is considered especially gentle, because it puts up to 30% less stress on the joints than jogging, and this sport also uses 600 muscles.
Look forward to:
460 km of cycling and hiking network
23 well signposted routes
Bike tours e.g. along the Inn River, to the baroque town of Schärding, to the ostrich farm, choir monastery Reichersberg, and many more.
Pilgrimage trail Via Nova, which connects Bad Füssing and 75 other Bavarian and Austrian communities.
Hikes in the Lower Bavarian countryside
Mountain biking through the forests
Flat terrain, charming landscape
Roman cycle path between Bad Füssing and Passau
General info
Here we provide more info, as well as some of the possible hiking and biking routes.
Info flyer
of the municipality Bad Füssing
Interesting facts about hiking and biking in Bad Füssing
Tour dragonfly
approx. 8 km
flat
Tour hare
approx. 15 km
flat
Tour sheet
approx. 21 km
mainly flat, contains inclines
Tour fish
approx. 49km
mainly flat, contains inclines
Roman bike trail
approx. 30km
By bike into the Roman times, one of the most beautiful bike paths